9/9/2021 in news
Maintenance Release 2021.4 is Live
Hey Licensees!
We've been hard at work developing some more highly requested features, and we are happy to announce that Maintenance Release 2021.4 is out now. Take a look at some of the new options that you can now use to your advantage.
Even Bigger Bases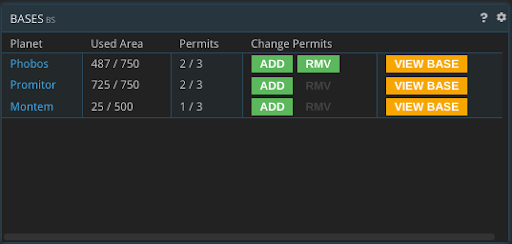 You can now expand a base's area by investing up to 2 additional unused base permits in the base overview screen (command: BS).
Delete Your Base
Demolish a whole base by destroying the core module. To do so, the base's area must not be expanded via additional permits, the core module needs to be the base's only remaining building and the base cannot be your HQ. You will also need a storage (i.e. a ship or warehouse unit) for the reclaimable materials (note that core module kits can never be reclaimed).
Filter Your Local Market

You are now able to filter local market boards for buying, selling and shipping ads.
Queue Up Your Production Management (Go PRO)

If you have an active PRO license, you can now move orders in your production queue up or down a slot via the respective buttons in the PROQ command.
There have also been other changes and fixes, you can find a list of all other features on the Prosperous Universe Forum. See you in APEX!
As always, we'd love to hear what you think. Join us on Discord or the forums!
Happy trading!