3/15/2021 in devlog
Transmitting New Tutorials - Development Log #276
New UI tutorials are coming to help ease in new players when they are introduced to APEX for the first time.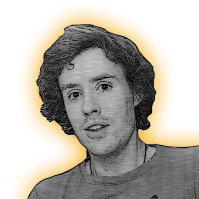 Michi (molp)
As stated in Martin's recent state of the universe address, we are currently focusing on improving the experience of new licensees. One of the projects is a UI tutorial that teaches the basics of the APEX interface. There is of course a transmission about that, but we think it might be better to integrate a short tutorial right into APEX, so it can't be missed.
The general idea of the tutorial is to use a pattern that is similar to a product tour. Once the new player opens APEX for the first time and finishes the company registration we will start the tour: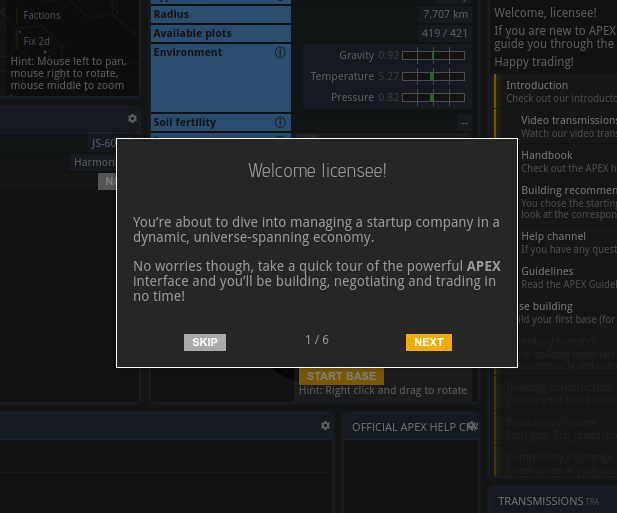 You can see in these work-in-progress screenshots that the usual interface is darkened and only the relevant parts (tiles, commands, buttons, ..) and of course, the tutorial step itself are fully visible and interactive.

Most of the steps will only contain descriptive text, but some will be interactive, like in the tutorial step shown above.
We hope that the tutorial will help new players get started more easily and that they won't feel overwhelmed by the interface.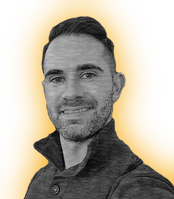 Nick
Last week was also spent coordinating with influencers and if you haven't seen Spacedock's new video, we are in it! There will be other YouTubers plugging our game this month so I'm really excited to see the responses. So far Spacedock has sent us some great players!
I wanted to thank those of you that participated in the "Name Your Favorite Planet" poll that we are doing on the forum. I will gather the most requested planets and turn it into a vote so we can have a first community named planet! I plan for this to be an ongoing event, so if your planet doesn't get chosen this time, there will be plenty of opportunities.
Lastly, we are planning to host another Live Stream next week on Wednesday March 24. Stay tuned for more info coming this week!
As always: We'd love to hear what you think. Join us on Discord or the forums!
Happy trading!